Following uncertainty Exeter wins grand final
06 Oct, 2010 01:00 AM
THE grand finals of Northern Interclub Snooker were conducted at the Works Club last week, with close games and lots of tension, controversial decisions, and some good and bad luck, all providing great competition.
In A grade snooker, a year of uncertainty for Exeter RSL Club was given a positive twist on Thursday night with its A grade snooker team winning the 2010 grand final by downing Works Black 3-1 in the final.
The opening match was between Blacks' David Bates, who won this year's most consistent player, and conceded 54 points start to Exeter's Adam Bindoff. Bates showed all his class to easily win 2-0, scoring over 90 points in each frame. On the other table, Exeter's Rex Swain (16) and Blacks' Bruce Lockley (26) were closely matched, Swain winning the first frame, Lockley the second. The third frame resulted in a rare tied score, with a re- spotted black seeing the match go to Swain.
The final was tied up at one match each.
The third match decided was between Exeter's Gary Bakker (30) and Andrew Saltmarsh (28). Two close frames went one each with Bakker steadying in the final frame to give Exeter a 2-1 lead.
The final match between Exeter's Ben Swain (24) and Peter Wallace (42) for Black, became an epic, lasting two hours and with all the tension expected of a grand final. Wallace won the first frame, aided by a perfect snooker, effecting the foul and miss rule. Swain won the second frame. The third was very close decided on the blue and pink when Peter Wallace potted the blue and went in off, then fouled three times on the pink to hand the frame and match to Exeter.
In A Reserve, Works Amber have won the 2010 A reserve snooker championship, defeating Works Navy 7-4 in a very close final dominated by black ball games.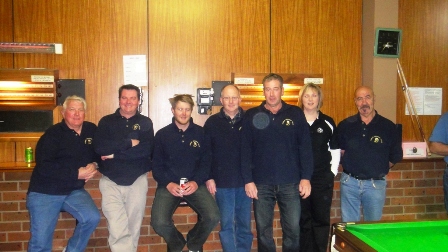 In the first round of matches, Amber's Ivor OConnor won 2-0 against Navy's Alan Legg, Tacey Saltmarsh lost 2-0 to John Fordham in two very close frames, John Saggers and Craig Jory won one frame each.
In the second round of matches Ambers Adam Gurr won his first frame against Brian OByrne while Peter Grimes lost his first frame to Navy's Steve Collins but came good in the second frame. David Bushby won both frames against Ray Skinner, the second frame coming from behind to win on the black.
COMING UP:
Gourlay Shield at Ulverstone RSL club this weekend.
Northern team - Billiards: David Bates and Kieth Coomber. Snooker: Peter Donati, Gary Bijone-Elliott, Roydyn Bishop, Robin McEnnulty, Rex Swain and Trevor Leary.
The 2010-11 billiards roster starts on October 12.