>>
Winter Results 2013
Details

Parent Category: Past 8Ball Results
Category: Winter Results 2013
Hits: 17579
J.Boag & Son - Winter Roster Finals 2013
The 2013 winter roster finals will be contested over the next 2 weeks, concluding with the Grand Finals at the LWC on Saturday August 31st at 6.30pm
It has been decided to play 2 lots of finals from the Div 1 / 2 combined roster and these have been split into the top 4 teams making up the Div 1 finals and the bottom 4 teams making up the Div 2 finals
The premier league will be contested between the top 4 teams
Reults from the Finals (score sheets) can also be viewed on the following links and this will also show you the players who have qualified for the finals - Div 1 / 2 - Premier League
Saturday August 31st ay LWC at 6.30pm
Div 1 - Bolters Bar (8) v Newstead Chalkers (2)
Div 2 - Newstead United (8) v Black Stallion Black (6)
Premier - Perth Black (8) v Iron Horse (2)
Tuesday August 27th - Prreliminary Finals
Div 1 - LWC Giants (7) v Newstead Chalkers (8) at LWC
Div 2 - Black Stallion Black (8) v LWC Warriors (6) at LWC
Premier - LWC Shooters (2) v Iron Horse (8) at LWC
Tuesday August 20th - Semi Finals
Div 1 - Second Semi: Bolters Bar (8) d LWC Giants (7) at Bolters
Div 1 - First Semi: Newstead Chalkers (8) d Park (7) Tavern at Newstead

Div 2 - Second Semi: Newstead United (8) d Black Stallion Black (1) at LWC
Div 2 - First Semi: LWC Warriors (8) d Black Stallion White (5) at LWC
Premier League - Second Semi: Perth Black (8) d LWC Shooters (1) at LWC
Premier League - First Semi: Iron Horse (8) d Country Club (5) at Iron Horse
Details

Parent Category: Past 8Ball Results
Category: Winter Results 2013
Hits: 10259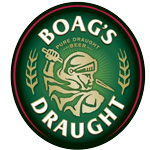 Under 25 Results can be found on this link
The 2013 J.Boag & Son Masters Singles (over 45), Women's Singles and Under 25's will be held on Sunday August 25th at the LWC and players need to be present by 10.45am for a 11.00am start - Entries Close Thursday August 22nd - Players can nominate online by clicking here
Players only receive entry to one event for their $10 registration fee - additional events are $5 for eligible players that enter those extra events (So if players have entered the Open, Div 1 / 2 Singles earlier in the year, they will need to pay the additional $5 for the above events)
Details

Parent Category: Past 8Ball Results
Category: Winter Results 2013
Hits: 29713
NTEBA - 2013 State 'B' Grade Champions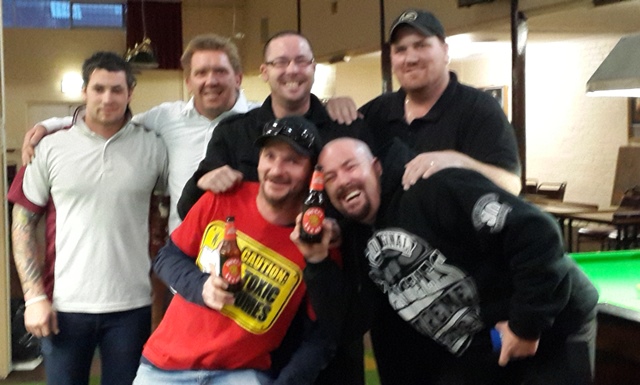 The NTEBA combined teams competing in the 2013 'B' Grade State Teams Event have completed a full on weekend of 8ball played at the Launceston Workers Club on Saturday June 8th & Sunday June 9th
NTEBA number 1 team managed to go through the weekend undefeated winning 6 matches from their 6 matches played, but could not keep this form in the final losing the final 13 - 8 to the number 2 NTEBA side
Aaron White from the NTEBA 1 team toped the stats from the weeeknd, a great efforet for this new young player in the NTEBA competition
Fiull results can be found on the Eightball Tasmania web site and some photos on the Eightball Tasmania facebook page
Details

Parent Category: Past 8Ball Results
Category: Winter Results 2013
Hits: 21265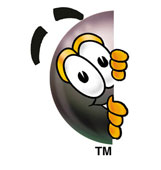 Eightball Tasmania are holding an association combined 'B' grade teams event on the June long weeeknd (June 8, 9 & 10) at the Launceston Workers Club and the NTEBA are eligible to select up to 2 combined teams for the event (5 players per team)
The following players have been selected to represent the NTEBA: Glenn Selby, Tim Bryan, Alex brooks, Danny Quach, Simon Thomas, Grant Selby, Ethan Brown, Tony Quach, Mark Hamill, Karl Lange, Aaron White
Players should be at the LWC by 10.00am for a 10.30am start of matches and dress is neat casual: Jeans, Polo Top, Sand shoes at minimum. Plaay should go to about 8 pm Saturday night and then start at 9.30am on the Sunday and through to about 3pm
Details

Parent Category: Past 8Ball Results
Category: Winter Results 2013
Hits: 17259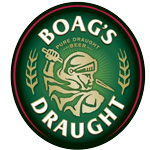 Results from the Div 1 and 2 Singls and the Open Singles can be viewed on the following links
Read more: Boags 2013 Singles Championships - Open, Div 1 and 2
Details

Parent Category: Past 8Ball Results
Category: Winter Results 2013
Hits: 45126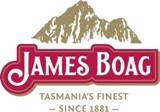 The 2013 J Boag & Son roster wil start on Tuesday April 30th and rosters are now on the web site to be viewed
Div 1 and 2 Roster / Premier League Roster
Rosters and other information will be delivered to most Hotels / Clubs on Saturday April 27th
Any queries please contact us at This email address is being protected from spambots. You need JavaScript enabled to view it. or contact Peter Wallace - Ph: 0419 393 838
Details

Parent Category: Past 8Ball Results
Category: Winter Results 2013
Hits: 15921
J.Boag & Son 2013 Winter Roster 8Ball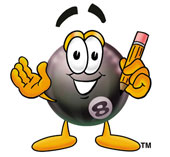 The 2013 season is down on team and a decision will be made at the weekend on formats (Sun 21/4/13)
The roster will now start on Tuesday April 30th and looks like 2 divisions - Premier league 5 Teams and Div 1&2 with 8 teams
The 2013 season is set to start on Tuesday April 23rd with team nominations closing on Tuesday April 16th (Entries Now Closed - Contact Peter Wallace on 0419 393 838 if you have a Late Entry or send us an email at This email address is being protected from spambots. You need JavaScript enabled to view it.)
Nominations are now open in Premier League, Div 1 & 2
5 players per team required and will play 3 rounds of 5 single frames with the start time being 7.15pm
You can nominate your team online and flyers and team nomination forms will be sent to Hotels / Clubs om Saturday April 6th you can download from the link below
Other Information: Team Nomination Fee: $120, Player Fee: $10 (includes Entry into Association Singles Event only, extra Association Events will have a cost)
Hotels / Clubs to provide a light supper on Home Night's, Hotels Clubs to make sure tables are level and clean, the association can help in this area and should contact Peter Wallace on 0419 393 838 at least 24 hours before the Tuesday night game
Details

Parent Category: Past 8Ball Results
Category: Winter Results 2013
Hits: 15626
J.Boag & Son 2013 Winter Roster 8Ball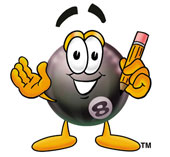 The 2013 season is set to start on Tuesday April 16th or 23rd with team nominations closing on Tuesday April 9th
Team Nominations will open after the AGM which is due to be held at the LWC on Tuesday March 26th and one delegate from each team would be appreciated to attend the AGM so we can finalise the Winter Roster and get started
Proposed Formats will be as previous years
5 players per team required and will play 3 rounds of 5 single frames with the start time being 7.15pm
You can nominate your team online and flyers and team nomination forms will be sent to Hotels / Clubs this weekend (March 30th) or you can download from the link below
Other Information: Team Nomination Fee: $120, Player Fee: $10 (includes Entry into Association Singles - 1 Event Only Extra Events will be $5)
Hotels / Clubs to provide a light supper on Home Night's, Hotels Clubs to make sure tables are level and clean, the association can help in this area and should contact Peter Wallace on 0419 393 838 at least 24 hours before the Tuesday night game
Details

Parent Category: Past 8Ball Results
Category: Winter Results 2013
Hits: 37210
J.Boag & Son 2013 Winter Roster 8Ball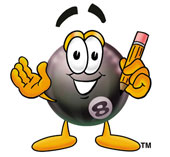 The 2013 will start on Tuesday April 30th
Rosters will be published onine on Thursday April 25th and delivered to Hotels / Clubs on Saturday April 27th.
There will be 5 Teams in Premier League and 8 Teams in Div 1 & 2.
Hotels / Clubs to provide a light supper on Home Night's, Hotels Clubs to make sure tables are level and clean, the association can help in this area and should contact Peter Wallace on 0419 393 838 at least 24 hours before the Tuesday night game.
5 players per team required and will play 3 rounds of 5 single frames with the start time being 7.15pm and teams should be in attendance by 7.00pm.
There is also comcern with the falling number of teams and we would love to hear from people on their thoughts on getting teams and players back playing.
Some of the thoughts are we shoulld drop Premier league and go back to Div 1, 2 and 3 as some teams / people feel they are being ignored with all the preference being given to Premier league
Premier league was set up for people who wanted to play at a higher level and play a more serious type of game. Div 1 was to be then known as the highest grade in the association, followed by Div 2 and 3. Teams who won multiple Premierships or who were graded to strong for the division they nominated for did not have to go any higher than Div 1 as Premier league was a choice teams and player made to play.
Another reason that Premier league was set up was because most of the team nominations received were for lower divisions as people did not want to nominate for Div 1 and play against the established Div 1 teams and players; from what we are hearing this has now changed and people want to play against these teams and players, so please let us know your feelings by return email and we can easily drop Premier league and go back to Div 1, 2 and 3 - Contact the President - This email address is being protected from spambots. You need JavaScript enabled to view it.or This email address is being protected from spambots. You need JavaScript enabled to view it. with your thoughts or ring Peter direct on 0419 393 838.
Currently all Divisons play for the same amount of prize money, all have their own singles knockouts, association events to enter and all receive the same trophies for winning events and team medallions for premierships.