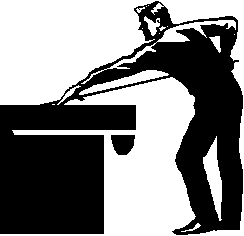 Interclub Snooker
The "A reserve" competition produced the surprise results of last week's round, Exeter Green, playing RSL White at the Launceston RSL club, had a big night out scoring an unlikely 12 nil result against the previous ladder leaders. The records show that whitewashes in this competition are vary rare, this one has catapulted Exeter Green to the top of the ladder, seven points clear of their nearest rival. Exeter's team of Derek Peart, Chris Reid, Lloyd Rogers, Greg Reid, Phil Stag and Will Cameron will go down in the history books.
Works Red also had a big win scoring 10-2 against Works Navy, which took them to second place on the ladder. Peter Seaman, Phil Rowbottom, Graeme Purdon and Steve Andjelkovic all scored 2-0 wins.
Works Amber rounded out the big win week with an 8-4 margin over Works Green, Captain Peter Fraser and newcomer Tony Quach both scored 2-0 wins.
"A Reserve" Ladder after Round 3.
Exeter Green 28, Works Red 21, Works Green 20, RSL White 19, Works Navy 19, Works Amber 19.
Leading Players: Lloyd Rogers leads the player stats, winning 5 frames from 6 played, followed by Ray Skinner, Warren Hayes, Graeme Purdon, Glen Johansen, Peter Fraser, Will Cameron and Chris Reid, all having won 4 from 6 frames played.
Best breaks: Peter Fraser 28, Ray Skinner 22.
In "A Grade" the spotlight was on the back markers, Northern Champion Graeme Pickett, playing off minus18, completely smashed Shane Franklin who he gave 64 start, Pickett playing brilliantly controlled snooker, potting freely on the newly re-clothed Exeter Tables, won in straight frames, with a best break of 68.
David Bates playing off minus 16 lost 2-1, however compiled a breaks of 59 and 23.
Roydyn Bishop off scratch knocked in a 38 break, winning his match 2-1 and Peter Donati off 4 won his match 2-1 making a break of 36 in the second frame.
Pickett and Donati's team Work's Blue easily defeated Exeter 3-1, Hans Georgieff also won for Blue, Dean Wilson scored a 2-0 win for Exeter.
Works Gold and Works Black shared the points with a 2-2 draw, Ted Mountney and John Fraser both won 2-1 for Gold, Andrew Saltmarsh and Rodney Martin won 2-1 for Black.
The Flaming Devils scored their first win of the season with a 3-1 win over Launceston RSL Grey, Andrew Rainbow 2-0, Scott Kopriva and Heath Rainbow both 2-1, were Devils winners, Roydyn Bishop winning 2-1 for the RSL team.
Works Raiders had last week's bye.
A Grade Ladder after round 4, Works Raiders 10, Launceston RSL 10, Exeter Social Club 8, Works Blue 8, Works Gold 4, Works Black 4, Flaming Devils 4,
Best breaks: Graeme Pickett 68, David Bates 59, Rodney Martin 40, Roydyn Bishop 38, Peter Donati 36, Gary Bakker 28, Heath Rainbow 26, Andrew Saltmarsh 25, Andrew Rainbow 21.
Leading Players, Harley Stebbings leads the player stats winning 6 frames from 6 played, Hans Geogieff 6 from 7, Alan Armitage 5 from 7, David Sheppard 7 from 10, Ted Mountney 7 from 8, Lionel Young remains at 4 from 4, Barry Glover and John Fraser 4 from 5, Rodney Martin and Bruce Lockley 5 from 9.
Results Round 4 "A Grade"
Works Gold 2 drew with Works Black 2, Frank Clark (34) lost to Andrew Saltmarsh (26) 1-2, John Fraser (14) defeated Bruce Lockley (14) 2-1, Gary Bjarnoe Elliott (16) lost to Rodney Martin (48) 1-2, Ted Mountney (48) defeated David Bates (-16) 2-1.
Exeter Social Club 1 lost to Works Blue 3, Gary Bakker (24) lost to Hans Georgieff (46) 0-2, Rex Swain (20) lost to Peter Donati (4) 1-2, Dean Wilson (40) defeated Rolf Stevenson (30) 2-0, Shane Franklin (46) lost to Graeme Pickett (-18) 0-2.
The Flaming Devils 3 defeated Launceston RSL Grey 1, Andrew Rainbow (30) defeated Paul Zoon (38) 2-0, Scott Kopriva (40) defeated Robin McEnnulty (12) 2-1, Josh Rainbow (42) lost to Roydyn Bishop (0) 1-2, Heath Rainbow (32) defeated David Sheppard (26) 2-1.
Results Round 3 "A Reserve"
Works Red 10 defeated Works Navy 2, Peter Seaman (58) defeated Luke Williams (70).
Bob Cain (52) drew with Warren Hayes (42), Phil Rowbottom (54) defeated Ray Skinner (40), Graeme Purdon (60) defeated Steve Collins (44), Louis Wong (68) drew with John Fordham (48), Steve Andjelkovic (58) defeated Philip Page (38).
Works Amber 8 defeated Works Green 4, John Saggers (44) drew with David Thomas (46), Peter Grimes (50) drew with Shane Franklin (46), Tony Quach (52) defeated Bryan Polden (50), Damien Bushby (38) drew with Dean Wilson (28), Andrew Saltmarsh (16) drew with Glen Johansen (34), Peter Fraser (24) defeated Geore Zammit (28).
Launceston RSL White 0 lost to Exeter Social Club Green 12, Greg Williams (44) lost to Phil Stagg, (36), Dennis Collins (46) lost to Lloyd Rogers (40), Tim Donnachy (48) lost to Derek Peart (48),Wayne Purdon (24) lost to Chris Reid (36) Sue Singline (58) lost to Will Cameron (70), Adrian White (26) lost to Greg Reid (38).
This weeks matches
"A Grade" Works Black v Exeter Social Club and The Flaming Devils v Works Gold at the Works club, Launceston RSL Grey v Works Raiders at the RSL Club, on Thursday night. Works Blue has the bye.
"A Reserve", Works Amber v Works Red and Works Red v Works Green v Launceston RSL White at the Works Club Wednesday night. Exeter Social Club Green v Works Navy at the Exeter Club.
Tasmanian Billiards Championship: Northern players David Bates, Graeme Pickett and Peter Donati will contest the Tasmanian Billiards Championship to be held at the Ulverstone RSL Club over the weekend of June 2/3.
Les Higgins, the defending Champion, as well as Steve Carroll, Justin Vandiepen, Wayne Stokes will represent the Southern Billiards Association.
Jeff Lehman, Grenville Brown and Gerrad Wicks will represent the North West Association.
Reminder: Entries close for the Northern Snooker Championships, all divisions, on Thursday 7th. June. Entry forms on the internet, or at the Works Club.
For more information visit the cue sport website, www.nteba.com.au or call the Secretary on 0487 171 966