Team sprints home to snatch final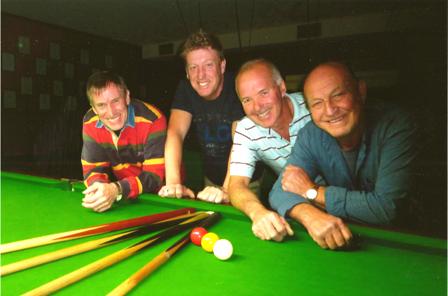 06 Apr, 2011 12:00 AM
THE star-studded Works Blue team completed its brilliant run through the billiards finals series, downing reigning premiers Works Green to win the grand final.
From the bottom of the ladder and likely wooden spooners with two rounds remaining in the home and away series, Blue won the last two rounds, picking up 10 points to sneak into sixth place and a chance at the final series.
It then beat third-placed Works Gold, minor premiers Works Black, fourth-placed Flaming Devils and Works Green.
The grand final was tied at 2-2 after the first round. For Green, Dean Wilson (250) defeated Michael Leslie (220) and George Zammitt (265) defeated Peter Donati (85), while Blue's Graeme Pickett (-90) overcame a 320-defecit to beat Lee Morcom (230) and Hans Georgieff (240) beat Glen Johansen (260) by 16 points.
Alleys were drawn to determine the players contesting the second round, which saw Johansen turn the tables on Georgieff. However, Blues' trump players Pickett and Donati, both high ranked state players, needed all their skills to account for Morcom and Zammitt to clinch the final.
Pickett scored the season's highest break with a brilliant 126.
Highlights of the 2011 season:
•The form of David Bates, who won the Northern championship and interclub consistency double.
•Three century breaks and one of 99.
•The improvement of 14-year- old Josh Rainbow, who was runner-up in the Tasmanian under-15 championship.
Tournament
A $1000 eightball 32-player double elimination tournament will be held on Saturday at the LWC.
Starting at 9.30am, it is open to all players with an entry fee of $45. For more details go to www.eightballtasmania.com.au.
Snooker / Eightball season
THE Northern snooker season starts on Wednesday, April 20, for A reserve and Thursday, April 21, for A grade. Nomination forms are at the clubs.
Northern eight ball starts on Tuesday, April 26, and hotels and clubs can nominate via the website www.nteba.com.au