Details

Parent Category: News Articles
Category: Cue News Articles
Created on Wednesday, 08 August 2012 00:00
Hits: 1955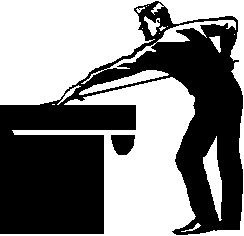 Northern Interclub Snooker
The Tasmanian Snooker Championship, played at the Ulverstone RSL Club this weekend, with the finals on August 25/26, again promises to be a weekend of first class snooker. Defending Champion Les Higgins leads the very strong southern contingent, including Gregg Watts, Luke Webb, Brendan Milburn and Steve Carroll and Jeremy Cowie.
If Northwest Champion, Cale Barrett was to win he would become the youngest ever winner, at sixteen years and four months old, the other North West players are Callam Bissett, Gerrad Wicks, Bob Boucher and Geoff Lehman.
Northern Champion Graeme Pickett, twice State Champion and runner up last year, will be joined at the event by Gary Bjarnoe Elliott, Keith Coomber and Bruce Lockley.
Play gets underway at 10 am on Saturday with non stop snooker on three tables at the Ulverston RSL Club, through until 3.30 on Sunday afternoon
Interclub Snooker
Works Green have replaced Works Red as the ladder leader in A Reserve competition, Green had a 6 all draw with RSL White, G Perry and Zane Brown won for Green, Lee Morcom and Dennis Collins were RSL's winners.
Works Red had a disastrous night, losing 3-9 to Works Amber, Peter Fraser, John Saggers, Peter Grimes and Ethan Brown all won for Amber, Keith Coomber was Red's only winner.
Works Navy, had an 8-4 win over Exeter Green, at Exeter, Navy's Warren Hayes and Philip Page were the only winners on the night.
In "A Grade" Raiders continued their winning way beating Exeter 3-1, Lionel Young, Barry Glover and Keith Coomber won for the Raiders, Dean Wilson scored for Exeter.
Works Gold beat Works Blue 3-1, Gary Bjarnoe-Elliott, John Fraser and Ted Mountney won for Gold, Hans Georgieff continued his good season winning for Blue.
Launceston RSL Grey had last week's bye.
A Grade Ladder after round 15, Works Raiders 38, Works Gold 30, Works Blue 28, Works Black 28, Exeter Social Club 24, Launceston RSL 20, Flaming Devils 12.
Best breaks: Keith Coomber 32, 30, Dean Wilson 28, 23.
Leading Players, Alan Armitage continues to lead the player stats winning 19 frames from 26 played, followed by Hans Geogieff 18 from 27 and Dean Wilson 18 from 27, Keith Coomber 19 from 29, Harley Stebbings 15 from 23, David Sheppard 12 from 19,
Barry Glover 15 from 24.
"A Reserve" Ladder after Round 14 .